Posted by Max Bottomtime on August 17, 2013 at 16:06:09:

Two weeks ago there were hundreds of squid egg capsules around the African Queen wreck three miles off Long Beach Harbor. Scott and Margaret Webb joined us for the long journey over higher than expected swells to look for newborn squid.

After pounding our way over twenty miles we made it to the beautiful blue water over the wreck. Margaret hinted a few times along the way that we should turn back. Besides the swells, fog horns blasted from nearby invisible ships as we nervously geared up.

The deep blue faded to junk-filled water halfway to the bottom, but visibility on the wreck was very good. Most of the squid eggs had already disappeared, so I resigned myself to try for better images of the wolf eels. Using a macro setup, I had to back up to fit them into the frame. I was worried about poor lighting and backscatter because of the large amount of water between my camera and the fishies. I did OK.
I spotted a white California scorpionfish in the sand. Every other one around it was either brown or red. At first I thought it was dead until it looked at me.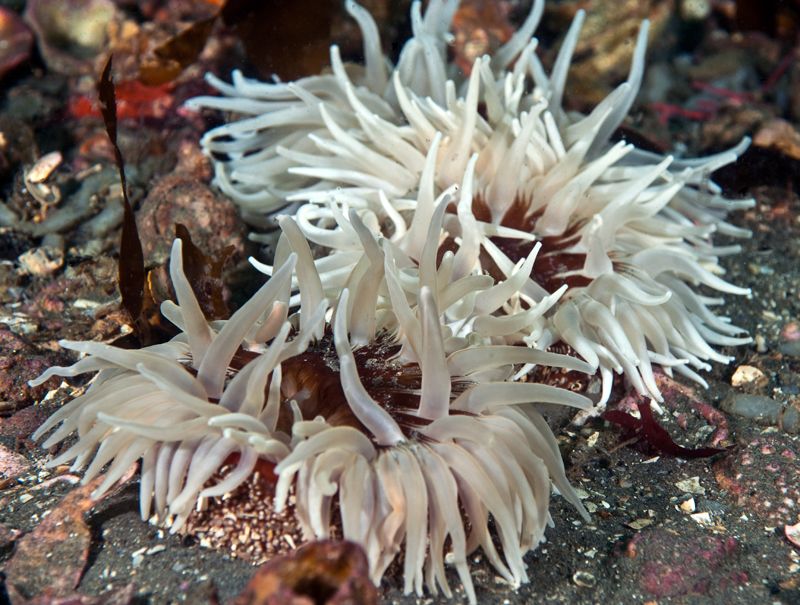 We had enough topside fun for the day, so we made a long, slow ride back to Redondo Beach. We found flatter water in the Santa Monica Bay, but by then we were ready to go home. Scott Susoeff and Ian Uhalt enjoyed some of the calm seas. At least I think it was Scott and Ian. I couldn't tell from their bubbles.