Posted by Patrick on May 27, 2014 at 13:10:27:

We managed to synch schedules and get out this weekend. Last weekend's conditions were not spectacular, but anytime you can get in the water is always better than sitting on the beach.
Reports were that visibility in the southern end of Santa Monica Bay was less that optimal – that is to say pretty crappy – so Captain Andy, my mermaid, Cindy and I opted to head out toward Malibu and the northern end of the bay. It is an area we have neglected for some time but we hoped that we could find some clear water while reconning some long over-looked spots.
It was painfully obvious at the launch ramp in Marina del Rey that it was Memorial Day weekend. People who had not backed trailers for a long time (if ever), didn't quite remember how to disconnect their boat from said trailer, and those who were deeply confused about things like drain plugs and starting engines that had been in retirement for many months (years?) were providing frustration and entertainment.
Clearing the ramp (finally) we were greeted by perhaps 10 or 12 large dolphin feeding in the harbor and main channel, accompanied by a phalanx of sea lions and echelons of pelicans, cormorants, and terns; bait balls were obvious not only from the frenzied feeding activities of all these creatures, but by the numerous fishermen anchored up in the main navigation channel hoping for the "big one". That the big one might be a less than observant yachtie headed out didn't seem to be an issue for them
We pointed our bow toward Malibu and had a pleasant trip with calm, glassy water and the early morning sun just burning away the last of the late night and early morning low clouds.
Andy made the first jump and happily reported back that visibility was in the 20-foot range. We moved to a second site and Cindy and I dove. The top 40 feet was 62-degrees and at least 40-foot visibility. The bottom half of our dive was more like 10-15 feet and 58-degrees; certainly not perfect, but quite acceptable. As Cindy began shooting something on the bottom, I glanced up and was pleased to be looking at the belly of a very chubby Black Sea Bass cruising overhead through the milky water like the Goodyear blimp through an overcast sky. By the time I got Cindy's attention the BSB had disappeared into the murk, but I managed to spot two together later in the dive and point them out to her. Since Andy wanted a fish for dinner, he moved to the far end of the structure away from us camera geeks. When he surfaced he asked if we had seen the Black Sea Bass. I smugly replied I had seen three and Cindy seen two. "Oh", he replied, "I counted 15 where I was and there might have been more since they were all moving." Andy had apparently come upon a spawning aggregation or at least a BSB Meet & Greet. We were definitely in the wrong place with our cameras but it was exciting to hear about and we will be back.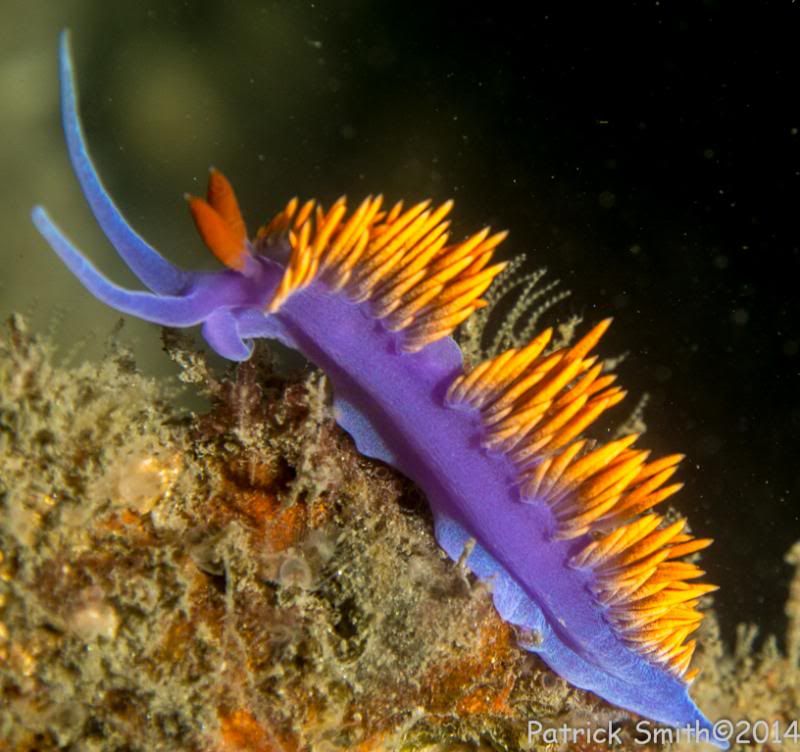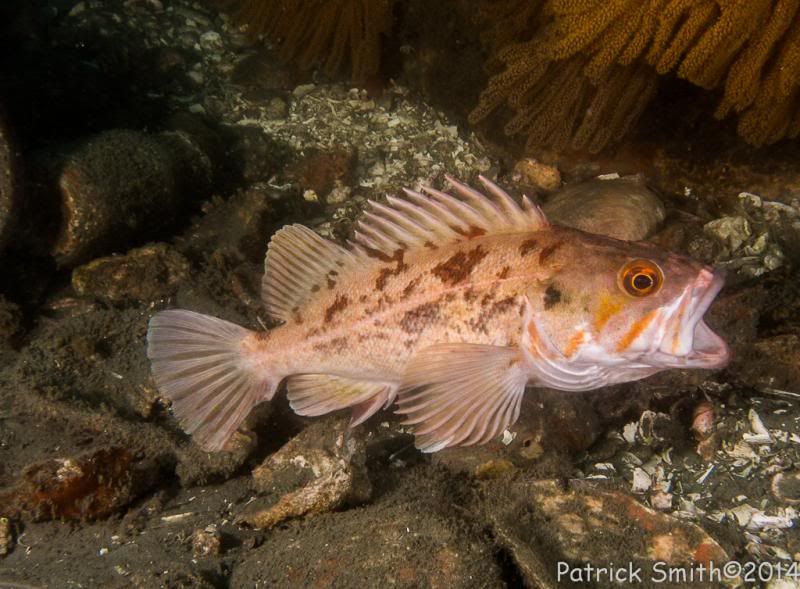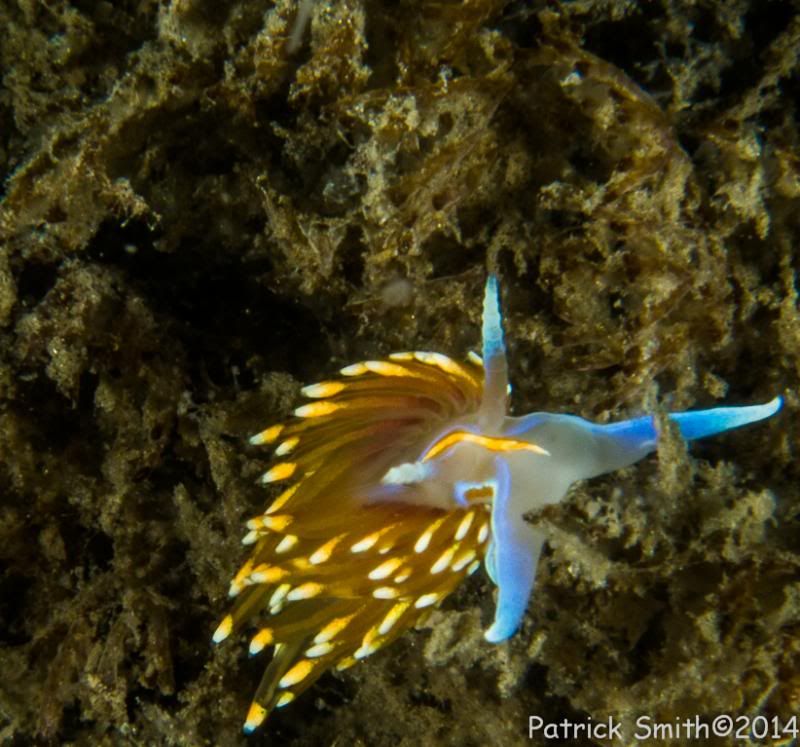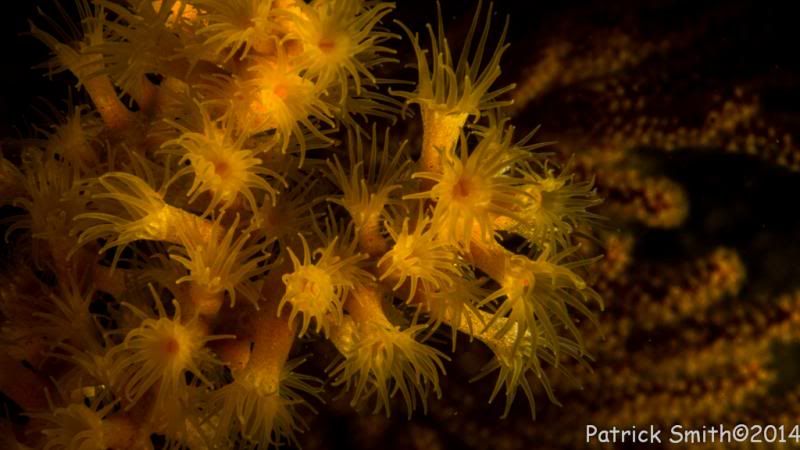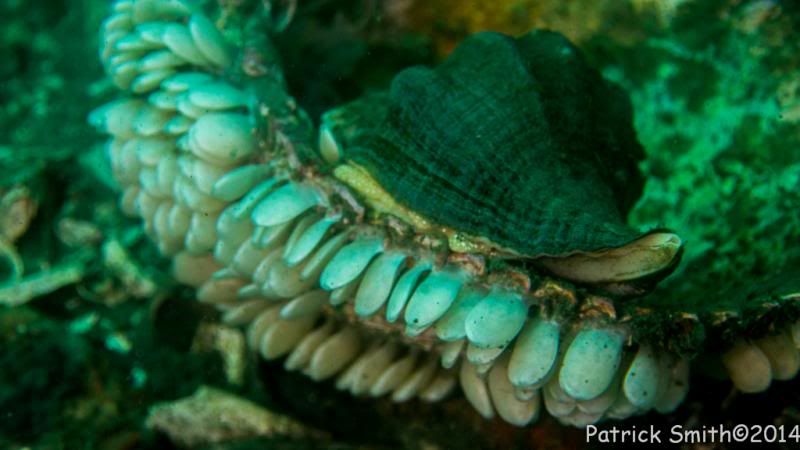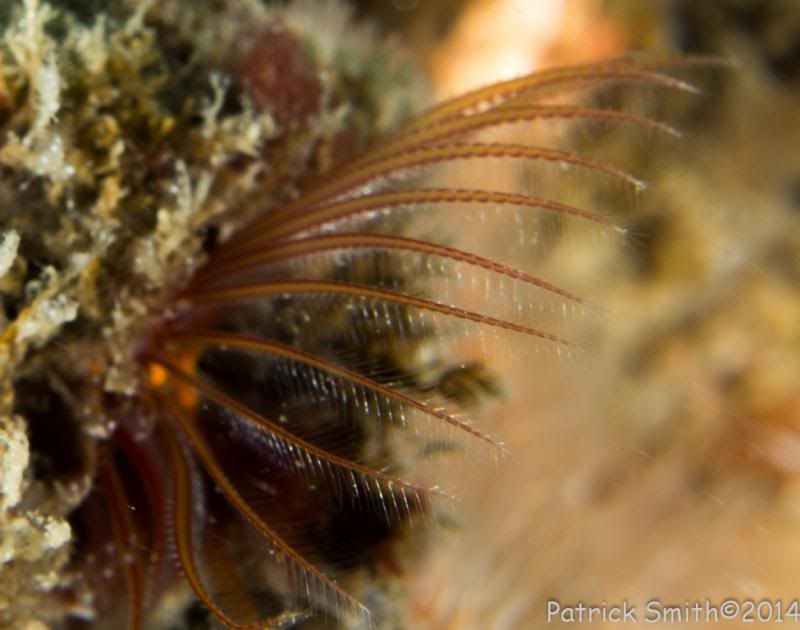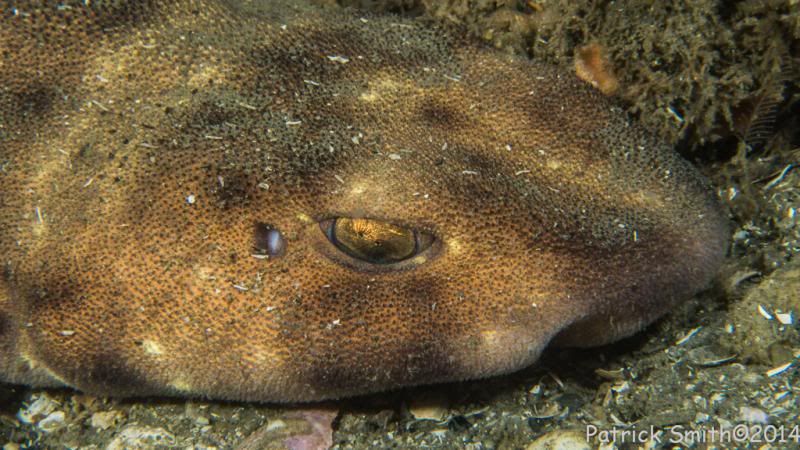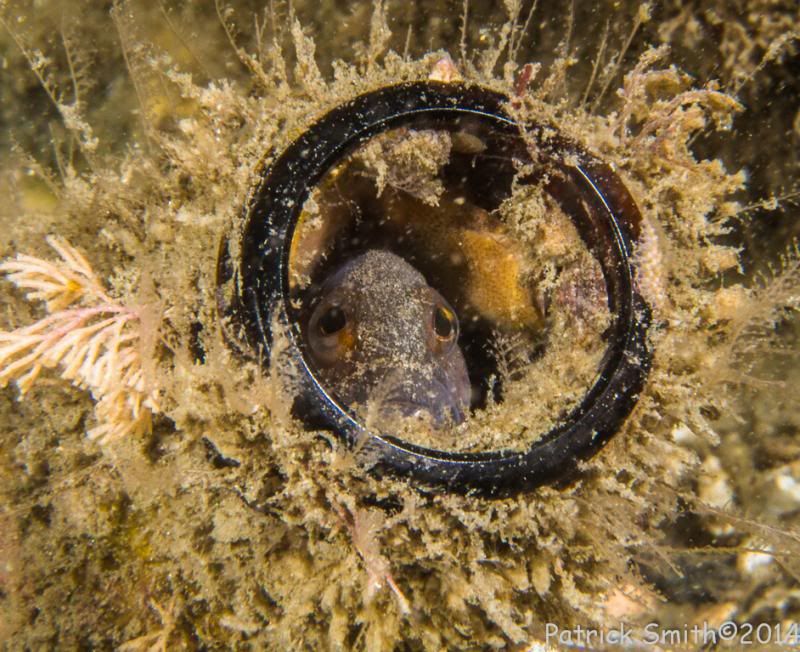 Relocating again, we tried several of the artificial rock piles near Sunset and found reasonable visibility warmer water and some willing subjects for the cameras. A stop on my favorite wreck, the Star of Scotland was disappointing with cooler water and poor visibility.
All in all we had a spectacular day on and in the water. Like Walt Disney said, "It's ALWAYS better down where it's wetter!"