Posted by Chamber Day 2020 on April 15, 2020 at 17:29:23: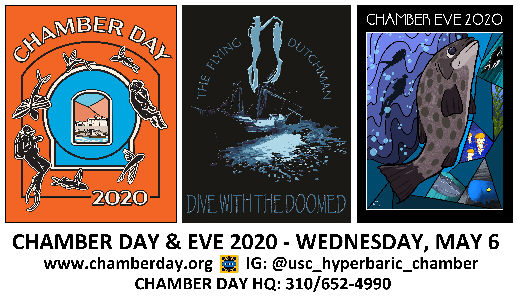 We made it past $55,000!!! Wow.
Giving us a big push over that line is Maja Vrvilo who made what is effectively a double-Gold donation ($2,000) and which we appreciate very much. Maja is a longtime supporter of Chamber Day and will also be at virtual Chamber Evening (along with her partner Rick) as well as both have signed on for the Flying Dutchman as well. Maja knows how important it is to keep our Chamber financially strong and steps up in a big way.
We've also gotten a boost from Jimmy Silveria and Divevets with a $500 Silver donation. These are a bunch of folks who regularly dive Veterans Park in Redondo (hence the name) and they too, recognize the value of our Chamber.
You may be reading this and thinking, "But I'm never going to get bent or embolise and need the Chamber." Other than that's not something anyone can say with certainty, think of it as a parallel to what the thoughts are behind how we're dealing with the COVID pandemic. We're wearing masks and practicing social distancing not only for ourselves, but also to make sure others don't get sick. In the same spirit, while you may not dive SoCal or think you'll ever need our Chamber even if you do dive here, your contribution helps not only yourself if there's ever a need, but you're helping other people as well in making sure that our Chamber is there 24/7. So what's that worth to you?
We're exactly three week away from Chamber Day 2020. We're making good progress with the Challenge but we can do better and perhaps even make this a record year. So . . . Who's next? The direct link to sign-up and donate is: https://dornsife.usc.edu/chamberday/signup-link/
CHAMBER CHALLENGE 2020 - $55,530 total
(Updated 4/15/2020 @ 5PM - last update 4/14)
New donors are marked with an asterisk.
Platinum ($5,000-9,999)
Antelope Valley Desert Divers
Galileo Capri
Mike Emmerman, Pat Stockhausen, & TJ
Beach Cities Scuba
Cyd Yonker
E&J Gallo match (Yonker)
In memory of Dr. Jeff Sipsey (anonymous)
Gold ($1,000-4,999)
* Maja Vrvilo
Andrew Pilmanis
SOCDC (South Orange County Dive Club)
D.A.N.
Jeremy & Marlo Wolf Family Fund
John Delaney
Pacific Wilderness
Silver ($500-999)
* Divevets
Ethan Bush
In memory of the Conception 34 (Allison Vitsky)
Pfizer match (Vitsky)
Will Weiss
John Lumb
In memory of Tom Wetzel (Patti Wetzel)
Stuart Berryhill
In memory of the Conception 34 (Susy Horowitz)
Scott Barnes
Don Lake
In memory of Lee Somers (Karl Huggins)
Bronze ($100-499)
* Mike Madden
* Lynn Dodd
Joe Takahashi
Mike Couffer
Steve & Erika Ladd
Laura & Bob Mosqueda
Diane Witmer
Mark Stabb
Quartus Engineering match (Stabb)
Roy Houston
In memory of the Conception divers & crew (Martha Edge)
Wallace Wood
Debbie Karimoto
Dark-Thirty Divers
In memory of Pat O'Brien (Susy Horowitz)
In memory of Bonnie Cardone (Susy Horowitz)
Tabby Stone & Linda Takvorian
SG Valley Scuba Club / Sharky's Dive Team
Jarrett Lee
David Osorio
Gerald Motter
In memory of Conception divers & crew (Thomas Penn)
Karen McKim
Dana Rodda
In memory of Bonnie Cardone (Jeanne Sleeper)
In memory of Bonnie Cardone (Martha Somers)
Barnacle Busters LGBTQ Dive Club
James Ruddick
In memory of Patty Meistrell (Fiona Macfarlane)
Henry Gittler & Lisette Lieberman
Laurie Kasper
Sharon DePriester
Roger Carlson
In memory of Bonnie Cardone (Vance Meyer)
Margaret Donat
In memory of Bonnie Cardone (Erin Quigley)
Other (less than $100)
* Dan & Betty Orr
Michele Vogt
Bill Edman
Karen Bunning
Yuriy Kotlyar
Roz Wolpert
Khrystyna Cusimano
Christopher Madsen
Timothy McDade
Oscar Corvera
Brian Aalberts
Rob Kadota
Tina Branca
Rebecca Rogers
Jerry Nickelsburg
Alexander Aligo
Ted Lavino
Debbie Rubin
In loving memory of Pat O'Brien (Carrie McConnell)
Terry Schuller
In memory of Bonnie Cardone (Greg & Nene Wine)
————————————————
Ken Kurtis - Chairman
Chamber Day/Eve 2020
P.O. Box 634
Beverly Hills, CA 90213
(310)652-4990